Girotonno Special 2021
What you will find in this article
The long-awaited Girotonno event returns to Carloforte in a special edition
The Girotonno of Carloforte , an event dedicated to the famous and renowned bluefin tuna caught in the island's traps, is renewed this year in a special guise. The whole month of July will see a rich program of musical, cultural and entertainment events alternate.
The 2021 edition aims to combine the safety in the period of Covid-19 and the deeper aspects of traditional bluefin tuna fishing.
The event will continue to tell about men, stories and flavors on the tuna routes and at the same time, thanks to the partnership with the South West Sardinia FLAG, it will be based on environmental, social and economic sustainability, applying to obtain the ISO 20121 certification for sustainable events .
The culinary challenge becomes the protagonist on social networks
The culinary challenge moves on social channels, on the Facebook page of Carloforte Turismo and on the Instagram channel.
In fact, on Facebook, restaurateurs will be involved who will compete with likes to win the best " Special Girotonno 2021 recipe ".
The initiative will start on Instagram " Food Influencer by chance "Where guests / tourists will be able to tell their culinary experience in Carloforte, where the star of the tastings must naturally be the Red Tuna. The best photos will be "reposted" on the official Instagram channel and voted by the followers.
The promotional video of Girotonno 2021
Watch the event promotion video.
Ferries to reach the island of Carloforte depart from Portoscuso (Portovesme) or Calasetta . The shipping company that manages the service is the Delcomar , the routes are approximately every hour, visit the official website for more details on prices and timetables.
For more information on the 2021 Special Girotonno follow the social pages dedicated to the event:
If you still don't know Carloforte participating in the event will also be an opportunity to discover the country.
Where sleeping in Carloforte
If you want to participate in the event, we recommend that you stay and sleep in Carloforte. Here is a list of accommodations affiliated to the Visit Sulcis Network.
Here is where you can eat, what you can see and what experiences you can live in Carloforte.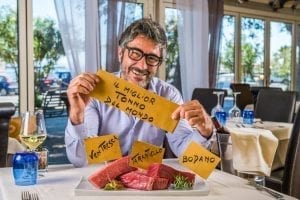 Carloforte
RESTAURANT – Da Nicolo Restaurant
Corso Cavour 32, 09014 Carloforte
Tel. +39 0781 854048
Carloforte
Lounge Bar Hotel Battellieri Course 26, 09014 Carloforte +39 0781 853234 www.hotelriviera-carloforte.com
Carloforte
RESTAURANT – Pomata Bistrot
Via Dante 32, 09014 Carloforte
Tel. +39 0781 855361
South West Sardinia events calendar
Scroll the calendar to search for events in South West Sardinia
Anteprima Narcao Blues Festival 2021
7/8/2021-21:30
7/10/2021-0:0
Piazza Europa, Narcao
https://discoversouthwestsardinia.com/wp-content/uploads/2021/06/Narcao-Blues-Festival-2021_roben_ford.jpeg
https://discoversouthwestsardinia.com/eventi/anteprima-narcao-blues-festival-2021/
Associazione culturale Progetto Evoluzionewww.narcaoblues.it
https://discoversouthwestsardinia.com/anteprima-narcao-blues-festival-2021-3/
0
Girotonno Speciale 2021
7/12/2021-19:0
7/31/2021-23:59
Carloforte
https://discoversouthwestsardinia.com/wp-content/uploads/2021/07/Girotonno-2021.jpg
https://discoversouthwestsardinia.com/eventi/girotonno-speciale-2021/
https://discoversouthwestsardinia.com/eventi/girotonno-speciale-2021/
https://discoversouthwestsardinia.com/lbg-category/girotonno-speciale-2021-2/
0
Ai Confini tra Sardegna e Jazz 2021
7/31/2021-19:0
9/8/2021-23:59
San'Anna Arresi e Sulcis
https://discoversouthwestsardinia.com/wp-content/uploads/2021/08/Ai-Confini-Tra-Sardegna-e-Jazz-2021-.jpg
https://discoversouthwestsardinia.com/eventi/ai-confini-tra-sardegna-e-jazz-2021
https://discoversouthwestsardinia.com/eventi/ai-confini-tra-sardegna-e-jazz-2021
https://discoversouthwestsardinia.com/lbg-category/ai-confini-tra-sardegna-e-jazz-2021-2/
0
SeuinStreet Band a Sant'Anna Arresi
8/6/2021-20:0
8/6/2021-22:0
Partenza da Piazza Chiesa a Sant'Anna Arresi
https://discoversouthwestsardinia.com/wp-content/uploads/2021/08/Seuinstreet-band-SantAnna-Arresi.jpeg
https://discoversouthwestsardinia.com/eventi/seuinstreet-band
https://discoversouthwestsardinia.com/lbg-category/ai-confini-tra-sardegna-e-jazz-2021-angeli-drake-duo/
0
Ai Confini tra Sardegna e Jazz 2021: Mario Tozzi & Enzo Favata
8/7/2021-21:30
8/7/2021-23:30
Villa Salazar a Piscinas
https://discoversouthwestsardinia.com/wp-content/uploads/2021/08/Ai-Confini-Tra-Sardegna-e-Jazz-2021-.jpg
Concerto Mario Tozzi & Enzo Favata
https://discoversouthwestsardinia.com/eventi/ai-confini-tra-sardegna-e-jazz-2021
https://discoversouthwestsardinia.com/eventi/ai-confini-tra-sardegna-e-jazz-2021
https://discoversouthwestsardinia.com/lbg-category/ai-confini-tra-sardegna-e-jazz-2021-mario-tozzi-enzo-favata/
0
Ai Confini tra Sardegna e Jazz 2021: Gabrielle Mitelli O.N.G "crash"
8/27/2021-21:0
8/27/2021-23:59
Borgo Medievale Tratalias
https://discoversouthwestsardinia.com/wp-content/uploads/2021/08/Ai-Confini-Tra-Sardegna-e-Jazz-2021-.jpg
Concerto Gabrielle Mitelli O.N.G "crash"
https://discoversouthwestsardinia.com/eventi/ai-confini-tra-sardegna-e-jazz-2021
https://discoversouthwestsardinia.com/eventi/ai-confini-tra-sardegna-e-jazz-2021
https://discoversouthwestsardinia.com/lbg-category/ai-confini-tra-sardegna-e-jazz-2021-gabrielle-mitelli-o-n-g-crash/
0
Ai Confini tra Sardegna e Jazz 2021: The Elephant
8/28/2021-21:0
8/28/2021-23:59
Loc. Is Pirixeddus a Sant'Antioco
https://discoversouthwestsardinia.com/wp-content/uploads/2021/08/Ai-Confini-Tra-Sardegna-e-Jazz-2021-.jpg
Concerto The Elephant
https://discoversouthwestsardinia.com/eventi/ai-confini-tra-sardegna-e-jazz-2021
https://discoversouthwestsardinia.com/eventi/ai-confini-tra-sardegna-e-jazz-2021
https://discoversouthwestsardinia.com/lbg-category/girotonno-speciale-2021/?lang=en
0
Il Sulcis Iglesiente Espone
8/28/2021-16:0
8/28/2021-23:59
Centro di Carbonia
https://discoversouthwestsardinia.com/wp-content/uploads/2021/08/Sulcis-Iglesiente-espone-Evento-FB2021.jpg
https://discoversouthwestsardinia.com/eventi/sulcis-iglesiente-espone-2021
https://discoversouthwestsardinia.com/eventi/sulcis-iglesiente-espone-2021
Consorzio Fieristico Sulcitano
https://discoversouthwestsardinia.com/lbg-category/il-sulcis-iglesiente-espone/
0
Il Sulcis Iglesiente Espone
8/29/2021-10:0
8/29/2021-23:59
Centro di Carbonia
https://discoversouthwestsardinia.com/wp-content/uploads/2021/08/Sulcis-Iglesiente-espone-Evento-FB2021.jpg
https://discoversouthwestsardinia.com/eventi/sulcis-iglesiente-espone-2021
https://discoversouthwestsardinia.com/eventi/sulcis-iglesiente-espone-2021
Consorzio Fieristico Sulcitano
https://discoversouthwestsardinia.com/lbg-category/ai-confini-tra-sardegna-e-jazz-2021-bandakadabra-2/
0
Ai Confini tra Sardegna e Jazz 2021: Dudu' Kouate
8/29/2021-19:0
8/29/2021-21:0
Is Solinas Masainas
https://discoversouthwestsardinia.com/wp-content/uploads/2021/08/Ai-Confini-Tra-Sardegna-e-Jazz-2021-.jpg
Concerto Dudu' Kouate
https://discoversouthwestsardinia.com/eventi/ai-confini-tra-sardegna-e-jazz-2021
https://discoversouthwestsardinia.com/eventi/ai-confini-tra-sardegna-e-jazz-2021
https://discoversouthwestsardinia.com/lbg-category/ai-confini-tra-sardegna-e-jazz-2021-dudu-kouate-2/
0
Ai Confini tra Sardegna e Jazz 2021: Angeli / Drake Duo
8/30/2021-21:0
8/30/2021-23:59
Canale del Generale a Carloforte
https://discoversouthwestsardinia.com/wp-content/uploads/2021/08/Ai-Confini-Tra-Sardegna-e-Jazz-2021-.jpg
Concerto Angeli / Drake Duo
https://discoversouthwestsardinia.com/eventi/ai-confini-tra-sardegna-e-jazz-2021
https://discoversouthwestsardinia.com/eventi/ai-confini-tra-sardegna-e-jazz-2021
https://discoversouthwestsardinia.com/lbg-category/ai-confini-tra-sardegna-e-jazz-2021-dudu-kouate/
0
Ai Confini tra Sardegna e Jazz 2021: ALESSANDRO CAU "BRENTI miniORCHESTRA"
8/31/2021-7:0
8/31/2021-9:0
Spiaggia di Porto Pino a Sant'Anna Arresi
https://discoversouthwestsardinia.com/wp-content/uploads/2021/08/Ai-Confini-Tra-Sardegna-e-Jazz-2021-.jpg
Concerto ALESSANDRO CAU "BRENTI miniORCHESTRA"
https://discoversouthwestsardinia.com/eventi/ai-confini-tra-sardegna-e-jazz-2021
https://discoversouthwestsardinia.com/eventi/ai-confini-tra-sardegna-e-jazz-2021
https://discoversouthwestsardinia.com/lbg-category/ai-confini-tra-sardegna-e-jazz-2021-alessandro-cau-brenti-miniorchestra/
0
Ai Confini tra Sardegna e Jazz 2021: Antonello Salis "Salissolo"
8/31/2021-21:0
8/31/2021-22:0
Piazza del Nuraghe a Sant'Anna Arresi
https://discoversouthwestsardinia.com/wp-content/uploads/2021/08/Ai-Confini-Tra-Sardegna-e-Jazz-2021-.jpg
Concerto di Antonello Salis "Salissolo"
https://discoversouthwestsardinia.com/eventi/ai-confini-tra-sardegna-e-jazz-2021
https://discoversouthwestsardinia.com/eventi/ai-confini-tra-sardegna-e-jazz-2021
https://discoversouthwestsardinia.com/lbg-category/ai-confini-tra-sardegna-e-jazz-2021-antonello-salis-salissolo/
0
Ai Confini tra Sardegna e Jazz 2021: Giornale di Bordo
8/31/2021-22:0
8/31/2021-23:59
Piazza del Nuraghe a Sant'Anna Arresi
https://discoversouthwestsardinia.com/wp-content/uploads/2021/08/Ai-Confini-Tra-Sardegna-e-Jazz-2021-.jpg
Concerto Giornale di Bordo
https://discoversouthwestsardinia.com/eventi/ai-confini-tra-sardegna-e-jazz-2021
https://discoversouthwestsardinia.com/eventi/ai-confini-tra-sardegna-e-jazz-2021
https://discoversouthwestsardinia.com/lbg-category/ai-confini-tra-sardegna-e-jazz-2021-giornale-di-bordo/
0
Ai Confini tra Sardegna e Jazz 2021: Enzo Favata "The Crossing"
9/1/2021-22:0
9/1/2021-23:59
Piazza del Nuraghe a Sant'Anna Arresi
https://discoversouthwestsardinia.com/wp-content/uploads/2021/08/Ai-Confini-Tra-Sardegna-e-Jazz-2021-.jpg
Concerto Enzo Favata "The Crossing"
https://discoversouthwestsardinia.com/eventi/ai-confini-tra-sardegna-e-jazz-2021
https://discoversouthwestsardinia.com/eventi/ai-confini-tra-sardegna-e-jazz-2021
https://discoversouthwestsardinia.com/lbg-category/ai-confini-tra-sardegna-e-jazz-2021-jara-di-paolo-angeli-with-omar-bandinu/
0
Ai Confini tra Sardegna e Jazz 2021: JAR'A di PAOLO ANGELI with OMAR BANDINU
9/1/2021-21:0
9/1/2021-22:0
Piazza del Nuraghe a Sant'Anna Arresi
https://discoversouthwestsardinia.com/wp-content/uploads/2021/08/Ai-Confini-Tra-Sardegna-e-Jazz-2021-.jpg
Concerto JAR'A di PAOLO ANGELI with OMAR BANDINU
https://discoversouthwestsardinia.com/eventi/ai-confini-tra-sardegna-e-jazz-2021
https://discoversouthwestsardinia.com/eventi/ai-confini-tra-sardegna-e-jazz-2021
https://discoversouthwestsardinia.com/lbg-category/ai-confini-tra-sardegna-e-jazz-2021-jara-di-paolo-angeli-with-omar-bandinu-2/
0
Ai Confini tra Sardegna e Jazz 2021: Andrea Schirru Piano Solo
9/1/2021-7:0
9/1/2021-9:0
Spiaggia di Porto Pino a Sant'Anna Arresi
https://discoversouthwestsardinia.com/wp-content/uploads/2021/08/Ai-Confini-Tra-Sardegna-e-Jazz-2021-.jpg
Concerto Andrea Schirru Piano Solo
https://discoversouthwestsardinia.com/eventi/ai-confini-tra-sardegna-e-jazz-2021
https://discoversouthwestsardinia.com/eventi/ai-confini-tra-sardegna-e-jazz-2021
https://discoversouthwestsardinia.com/lbg-category/ai-confini-tra-sardegna-e-jazz-2021-andrea-schirru-piano-solo/
0
Ai Confini tra Sardegna e Jazz 2021: Matteo Scano & Riccardo Pittau Duo
9/2/2021-7:0
9/2/2021-9:0
Spiaggia di Porto Pino a Sant'Anna Arresi
https://discoversouthwestsardinia.com/wp-content/uploads/2021/08/Ai-Confini-Tra-Sardegna-e-Jazz-2021-.jpg
Concerto Matteo Scano & Riccardo Pittau Duo
https://discoversouthwestsardinia.com/eventi/ai-confini-tra-sardegna-e-jazz-2021
https://discoversouthwestsardinia.com/eventi/ai-confini-tra-sardegna-e-jazz-2021
https://discoversouthwestsardinia.com/lbg-category/ai-confini-tra-sardegna-e-jazz-2021-matteo-scano-riccardo-pittau-duo/
0
Ai Confini tra Sardegna e Jazz 2021: Maurice Louca & The Elephantine Band
9/2/2021-22:0
9/2/2021-23:59
Piazza del Nuraghe a Sant'Anna Arresi
https://discoversouthwestsardinia.com/wp-content/uploads/2021/08/Ai-Confini-Tra-Sardegna-e-Jazz-2021-.jpg
Concerto Maurice Louca & The Elephantine Band
https://discoversouthwestsardinia.com/eventi/ai-confini-tra-sardegna-e-jazz-2021
https://discoversouthwestsardinia.com/eventi/ai-confini-tra-sardegna-e-jazz-2021
https://discoversouthwestsardinia.com/lbg-category/ai-confini-tra-sardegna-e-jazz-2021-drake-mirra-duo/
0
Ai Confini tra Sardegna e Jazz 2021: Drake & Mirra Duo
9/2/2021-21:0
9/2/2021-22:0
Piazza del Nuraghe a Sant'Anna Arresi
https://discoversouthwestsardinia.com/wp-content/uploads/2021/08/Ai-Confini-Tra-Sardegna-e-Jazz-2021-.jpg
Concerto Drake & Mirra Duo
https://discoversouthwestsardinia.com/eventi/ai-confini-tra-sardegna-e-jazz-2021
https://discoversouthwestsardinia.com/eventi/ai-confini-tra-sardegna-e-jazz-2021
https://discoversouthwestsardinia.com/lbg-category/ai-confini-tra-sardegna-e-jazz-2021-drake-mirra-duo-2/
0
Ai Confini tra Sardegna e Jazz 2021: Tommaso Cappellato "Aforemention"
9/3/2021-7:0
9/3/2021-9:0
Spiaggia di Porto Pino a Sant'Anna Arresi
https://discoversouthwestsardinia.com/wp-content/uploads/2021/08/Ai-Confini-Tra-Sardegna-e-Jazz-2021-.jpg
Concerto Tommaso Cappellato "Aforemention"
https://discoversouthwestsardinia.com/eventi/ai-confini-tra-sardegna-e-jazz-2021
https://discoversouthwestsardinia.com/eventi/ai-confini-tra-sardegna-e-jazz-2021
https://discoversouthwestsardinia.com/lbg-category/ai-confini-tra-sardegna-e-jazz-2021-tommaso-cappellato-aforemention/
0
Ai Confini tra Sardegna e Jazz 2021: Sound Glance
9/3/2021-21:0
9/3/2021-22:0
Piazza del Nuraghe a Sant'Anna Arresi
https://discoversouthwestsardinia.com/wp-content/uploads/2021/08/Ai-Confini-Tra-Sardegna-e-Jazz-2021-.jpg
Concerto Sound Glance
https://discoversouthwestsardinia.com/eventi/ai-confini-tra-sardegna-e-jazz-2021
https://discoversouthwestsardinia.com/eventi/ai-confini-tra-sardegna-e-jazz-2021
https://discoversouthwestsardinia.com/lbg-category/ai-confini-tra-sardegna-e-jazz-2021-sound-glance/
0
Ai Confini tra Sardegna e Jazz 2021: David Murray Brave New World Trio Feat. Aruàn Ortiz
9/3/2021-22:0
9/3/2021-23:59
Piazza del Nuraghe a Sant'Anna Arresi
https://discoversouthwestsardinia.com/wp-content/uploads/2021/08/Ai-Confini-Tra-Sardegna-e-Jazz-2021-.jpg
Concerto David Murray Brave New World Trio Feat. Aruàn Ortiz
https://discoversouthwestsardinia.com/eventi/ai-confini-tra-sardegna-e-jazz-2021
https://discoversouthwestsardinia.com/eventi/ai-confini-tra-sardegna-e-jazz-2021
https://discoversouthwestsardinia.com/lbg-category/ai-confini-tra-sardegna-e-jazz-2021-david-murray-brave-new-world-trio-feat-aruan-ortiz/
0
Ai Confini tra Sardegna e Jazz 2021: Tommaso Cappellato "Aforemention"
9/3/2021-7:0
9/3/2021-9:0
Spiaggia di Porto Pino a Sant'Anna Arresi
https://discoversouthwestsardinia.com/wp-content/uploads/2021/08/Ai-Confini-Tra-Sardegna-e-Jazz-2021-.jpg
Concerto Tommaso Cappellato "Aforemention"
https://discoversouthwestsardinia.com/eventi/ai-confini-tra-sardegna-e-jazz-2021
https://discoversouthwestsardinia.com/eventi/ai-confini-tra-sardegna-e-jazz-2021
https://discoversouthwestsardinia.com/lbg-category/ai-confini-tra-sardegna-e-jazz-2021-tommaso-cappellato-aforemention-2/
0
Ai Confini tra Sardegna e Jazz 2021: DuDu' Kouate & Silvia Bolognesi
9/4/2021-7:0
9/4/2021-9:0
Spiaggia di Porto Pino a Sant'Anna Arresi
https://discoversouthwestsardinia.com/wp-content/uploads/2021/08/Ai-Confini-Tra-Sardegna-e-Jazz-2021-.jpg
Concerto DuDu' Kouate & Silvia Bolognesi
https://discoversouthwestsardinia.com/eventi/ai-confini-tra-sardegna-e-jazz-2021
https://discoversouthwestsardinia.com/eventi/ai-confini-tra-sardegna-e-jazz-2021
https://discoversouthwestsardinia.com/lbg-category/ai-confini-tra-sardegna-e-jazz-2021-dudu-kouate-silvia-bolognesi/
0
Ai Confini tra Sardegna e Jazz 2021: THE DEAD LECTURERS (with a Tribute to Jean Michel Basquiat)
9/4/2021-21:0
9/4/2021-22:0
Piazza del Nuraghe a Sant'Anna Arresi
https://discoversouthwestsardinia.com/wp-content/uploads/2021/08/Ai-Confini-Tra-Sardegna-e-Jazz-2021-.jpg
Concerto THE DEAD LECTURERS (with a Tribute to Jean Michel Basquiat)
https://discoversouthwestsardinia.com/eventi/ai-confini-tra-sardegna-e-jazz-2021
https://discoversouthwestsardinia.com/eventi/ai-confini-tra-sardegna-e-jazz-2021
https://discoversouthwestsardinia.com/lbg-category/ai-confini-tra-sardegna-e-jazz-2021-the-dead-lecturers-with-a-tribute-to-jean-michel-basquiat/
0
Ai Confini tra Sardegna e Jazz 2021: MAISTAH APHRICA
9/4/2021-22:0
9/4/2021-23:59
Piazza del Nuraghe a Sant'Anna Arresi
https://discoversouthwestsardinia.com/wp-content/uploads/2021/08/Ai-Confini-Tra-Sardegna-e-Jazz-2021-.jpg
Concerto MAISTAH APHRICA
https://discoversouthwestsardinia.com/eventi/ai-confini-tra-sardegna-e-jazz-2021
https://discoversouthwestsardinia.com/eventi/ai-confini-tra-sardegna-e-jazz-2021
https://discoversouthwestsardinia.com/lbg-category/ai-confini-tra-sardegna-e-jazz-2021-maistah-aphrica/
0
Ai Confini tra Sardegna e Jazz 2021: Freak Motel
9/4/2021-23:59
9/5/2021-2:0
Loc. Candiani Porto Pino a Sant'Anna Arresi
https://discoversouthwestsardinia.com/wp-content/uploads/2021/08/Ai-Confini-Tra-Sardegna-e-Jazz-2021-.jpg
Concerto Freak Motel
https://discoversouthwestsardinia.com/eventi/ai-confini-tra-sardegna-e-jazz-2021
https://discoversouthwestsardinia.com/eventi/ai-confini-tra-sardegna-e-jazz-2021
https://discoversouthwestsardinia.com/lbg-category/ai-confini-tra-sardegna-e-jazz-2021-freak-motel/
0
Ai Confini tra Sardegna e Jazz 2021: Aruan Ortiz Quartet
9/5/2021-21:0
9/5/2021-23:59
Miniera Serbariu Carbonia
https://discoversouthwestsardinia.com/wp-content/uploads/2021/08/Ai-Confini-Tra-Sardegna-e-Jazz-2021-.jpg
Concerto Aruan Ortiz Quartet
https://discoversouthwestsardinia.com/eventi/ai-confini-tra-sardegna-e-jazz-2021
https://discoversouthwestsardinia.com/eventi/ai-confini-tra-sardegna-e-jazz-2021
https://discoversouthwestsardinia.com/lbg-category/ai-confini-tra-sardegna-e-jazz-2021-aruan-ortiz-quartet/
0
Ai Confini tra Sardegna e Jazz 2021: Bandakadabra
9/7/2021-21:30
9/7/2021-23:59
Cantina Santadi
https://discoversouthwestsardinia.com/wp-content/uploads/2021/08/Ai-Confini-Tra-Sardegna-e-Jazz-2021-.jpg
Concerto Bandakadraba
https://discoversouthwestsardinia.com/eventi/ai-confini-tra-sardegna-e-jazz-2021
https://discoversouthwestsardinia.com/eventi/ai-confini-tra-sardegna-e-jazz-2021
https://discoversouthwestsardinia.com/lbg-category/ai-confini-tra-sardegna-e-jazz-2021-bandakadabra/
0
Ai Confini tra Sardegna e Jazz 2021: Bandakadabra
9/8/2021-21:0
9/8/2021-22:0
Monte Sirai a Carbonia
https://discoversouthwestsardinia.com/wp-content/uploads/2021/08/Ai-Confini-Tra-Sardegna-e-Jazz-2021-.jpg
Concerto Bandakadraba
https://discoversouthwestsardinia.com/eventi/ai-confini-tra-sardegna-e-jazz-2021
https://discoversouthwestsardinia.com/eventi/ai-confini-tra-sardegna-e-jazz-2021
https://discoversouthwestsardinia.com/lbg-category/ai-confini-tra-sardegna-e-jazz-2021-bandakadabra/
0
Ai Confini tra Sardegna e Jazz 2021: Davide "Boosta" Dileo
9/8/2021-22:0
9/8/2021-23:59
Monte Sirai a Carbonia
https://discoversouthwestsardinia.com/wp-content/uploads/2021/08/Ai-Confini-Tra-Sardegna-e-Jazz-2021-.jpg
Concerto Davide "Boosta" Dileo
https://discoversouthwestsardinia.com/eventi/ai-confini-tra-sardegna-e-jazz-2021
https://discoversouthwestsardinia.com/eventi/ai-confini-tra-sardegna-e-jazz-2021
https://discoversouthwestsardinia.com/lbg-category/ai-confini-tra-sardegna-e-jazz-2021-davide-boosta-dileo/
0
Il Villaggio di Natale a Sant'Antioco
12/3/2021-10:0
1/12/2022-23:59
Sant'Antioco
https://discoversouthwestsardinia.com/wp-content/uploads/2021/12/Schermata-2021-12-12-alle-00.07.40.png
Programma dell'evento "Il Villaggio di Natale a Sant'Antioco"
https://discoversouthwestsardinia.com/eventi/il-villaggio-di-natale-sant-antioco/
https://discoversouthwestsardinia.com/eventi/il-villaggio-di-natale-sant-antioco/
https://discoversouthwestsardinia.com/lbg-category/il-villaggio-di-natale-a-santantioco/
0
Natale Arresino 2021
12/4/2021-10:0
12/4/2021-23:59
Sant'Anna Arresi
https://discoversouthwestsardinia.com/wp-content/uploads/2021/12/Schermata-2021-12-11-alle-21.38.22.png
Programma dell'evento "Natale Arresino 2021"
https://discoversouthwestsardinia.com/eventi/natale-arresino-2021/
https://discoversouthwestsardinia.com/eventi/natale-arresino-2021/
https://discoversouthwestsardinia.com/lbg-category/natale-arresino-2021-2/
0
Natale Perdaxino
12/7/2021-17:30
12/7/2021-23:59
Perdaxius
https://discoversouthwestsardinia.com/wp-content/uploads/2021/12/Schermata-2021-12-11-alle-23.13.01.png
Programma dell'evento "Natale Perdaxino"
https://discoversouthwestsardinia.com/eventi/natale-perdaxino-2021/
https://discoversouthwestsardinia.com/eventi/natale-perdaxino-2021/
https://discoversouthwestsardinia.com/lbg-category/natale-perdaxino/
0
Natale Arresino 2021
12/8/2021-10:0
12/4/2021-20:0
Sant'Anna Arresi
https://discoversouthwestsardinia.com/wp-content/uploads/2021/12/Schermata-2021-12-11-alle-21.38.22.png
Programma dell'evento "Natale Arresino 2021"
https://discoversouthwestsardinia.com/eventi/natale-arresino-2021/
https://discoversouthwestsardinia.com/eventi/natale-arresino-2021/
https://discoversouthwestsardinia.com/lbg-category/natale-arresino-2021-3/
0
Natale Arresino 2021
12/11/2021-10:0
12/11/2021-20:0
Sant'Anna Arresi
https://discoversouthwestsardinia.com/wp-content/uploads/2021/12/Schermata-2021-12-11-alle-21.38.22.png
Programma dell'evento "Natale Arresino 2021"
https://discoversouthwestsardinia.com/eventi/natale-arresino-2021/
https://discoversouthwestsardinia.com/eventi/natale-arresino-2021/
https://discoversouthwestsardinia.com/lbg-category/natale-arresino-2021-4/
0
Luci a Natale - Iglesias
12/13/2021-18:0
1/23/2022-23:59
Iglesias
https://discoversouthwestsardinia.com/wp-content/uploads/2021/12/Luci-a-Natale-Iglesias-2021.jpeg
Programma dell'evento "Luci a Natale"
https://discoversouthwestsardinia.com/eventi/luci-a-natale-iglesias/
https://discoversouthwestsardinia.com/eventi/luci-a-natale-iglesias/
https://discoversouthwestsardinia.com/lbg-category/luci-a-natale-iglesias-2/
0
Natale Narcarese 2021
12/16/2021-15:0
12/16/2021-23:59
Narcao
https://discoversouthwestsardinia.com/wp-content/uploads/2021/12/Schermata-2021-12-11-alle-22.43.06.png
Programma dell'evento "Natale Narcarese"
https://discoversouthwestsardinia.com/eventi/natale-narcarese-2021/
https://discoversouthwestsardinia.com/eventi/natale-narcarese-2021/
https://discoversouthwestsardinia.com/lbg-category/natale-narcarese-2021-2/
0
Il Natale Arriva in Città - Carbonia 2021
12/18/2021-15:0
12/24/2021-23:59
Carbonia, Barbusi, Cortoghiana, Bacu Abis
https://discoversouthwestsardinia.com/wp-content/uploads/2021/12/Il-Natale-arriva-in-citta_Carbonia_2021_eventoFB.jpg
Programma dell'evento "Il Natale Arriva in Città"
https://discoversouthwestsardinia.com/eventi/il-natale-arriva-in-citta-carbonia-2021/
https://discoversouthwestsardinia.com/eventi/il-natale-arriva-in-citta-carbonia-2021/
https://discoversouthwestsardinia.com/lbg-category/il-natale-arriva-in-citta-carbonia-2021-2/
0
Natale Narcarese 2021
12/18/2021-15:0
12/18/2021-23:59
Narcao
https://discoversouthwestsardinia.com/wp-content/uploads/2021/12/Schermata-2021-12-11-alle-22.43.06.png
Programma dell'evento "Natale Narcarese"
https://discoversouthwestsardinia.com/eventi/natale-narcarese-2021/
https://discoversouthwestsardinia.com/eventi/natale-narcarese-2021/
https://discoversouthwestsardinia.com/lbg-category/natale-narcarese-2021-3/
0
Il Villaggio di Natale a Sant'Antioco
12/18/2021-17:0
1/19/2022-23:59
Sant'Antioco
https://discoversouthwestsardinia.com/wp-content/uploads/2021/12/Schermata-2021-12-12-alle-00.07.40.png
Programma dell'evento "Il Villaggio di Natale a Sant'Antioco"
https://discoversouthwestsardinia.com/eventi/il-villaggio-di-natale-sant-antioco/
https://discoversouthwestsardinia.com/eventi/il-villaggio-di-natale-sant-antioco/
https://discoversouthwestsardinia.com/lbg-category/il-villaggio-di-natale-a-santantioco-2/
0
Natale Perdaxino
12/18/2021-16:0
12/18/2021-23:59
Perdaxius
https://discoversouthwestsardinia.com/wp-content/uploads/2021/12/Schermata-2021-12-11-alle-23.13.01.png
Programma dell'evento "Natale Perdaxino"
https://discoversouthwestsardinia.com/eventi/natale-perdaxino-2021/
https://discoversouthwestsardinia.com/eventi/natale-perdaxino-2021/
https://discoversouthwestsardinia.com/lbg-category/natale-perdaxino-2/
0
Natale Arresino 2021
12/18/2021-10:0
12/18/2021-23:59
Sant'Anna Arresi
https://discoversouthwestsardinia.com/wp-content/uploads/2021/12/Schermata-2021-12-11-alle-21.38.22.png
Programma dell'evento "Natale Arresino 2021"
https://discoversouthwestsardinia.com/eventi/natale-arresino-2021/
https://discoversouthwestsardinia.com/eventi/natale-arresino-2021/
https://discoversouthwestsardinia.com/lbg-category/natale-arresino-2021-5/
0
Natale Narcarese 2021
12/19/2021-10:0
12/19/2021-23:59
Narcao
https://discoversouthwestsardinia.com/wp-content/uploads/2021/12/Schermata-2021-12-11-alle-22.43.06.png
Programma dell'evento "Natale Narcarese"
https://discoversouthwestsardinia.com/eventi/natale-narcarese-2021/
https://discoversouthwestsardinia.com/eventi/natale-narcarese-2021/
https://discoversouthwestsardinia.com/lbg-category/natale-narcarese-2021-4/
0
Natale Masainas 2021
12/19/2021-15:30
12/19/2021-23:59
Masainas - Piazza Chiesa
https://discoversouthwestsardinia.com/wp-content/uploads/2021/12/Schermata-2021-12-11-alle-22.06.24.png
Programma dell'evento "Natale Masainas 2021"
https://discoversouthwestsardinia.com/eventi/natale-masainas-2021/
https://discoversouthwestsardinia.com/eventi/natale-masainas-2021/
https://discoversouthwestsardinia.com/lbg-category/natale-masainas-2021-2/
0
Natale Arresino 2021
12/19/2021-10:0
12/19/2021-23:59
Sant'Anna Arresi
https://discoversouthwestsardinia.com/wp-content/uploads/2021/12/Schermata-2021-12-11-alle-21.38.22.png
Programma dell'evento "Natale Arresino 2021"
https://discoversouthwestsardinia.com/eventi/natale-arresino-2021/
https://discoversouthwestsardinia.com/eventi/natale-arresino-2021/
https://discoversouthwestsardinia.com/lbg-category/natale-arresino-2021-6/
0
Il Villaggio di Natale a Sant'Antioco
12/21/2021-16:0
1/26/2022-23:59
Sant'Antioco
https://discoversouthwestsardinia.com/wp-content/uploads/2021/12/Schermata-2021-12-12-alle-00.07.40.png
Programma dell'evento "Il Villaggio di Natale a Sant'Antioco"
https://discoversouthwestsardinia.com/eventi/il-villaggio-di-natale-sant-antioco/
https://discoversouthwestsardinia.com/eventi/il-villaggio-di-natale-sant-antioco/
https://discoversouthwestsardinia.com/lbg-category/il-villaggio-di-natale-a-santantioco-3/
0
Natale Perdaxino
12/23/2021-16:0
12/23/2021-23:59
Perdaxius
https://discoversouthwestsardinia.com/wp-content/uploads/2021/12/Schermata-2021-12-11-alle-23.13.01.png
Programma dell'evento "Natale Perdaxino"
https://discoversouthwestsardinia.com/eventi/natale-perdaxino-2021/
https://discoversouthwestsardinia.com/eventi/natale-perdaxino-2021/
https://discoversouthwestsardinia.com/lbg-category/natale-perdaxino-3/
0
Natale Arresino 2021
12/23/2021-10:0
12/23/2021-23:59
Sant'Anna Arresi
https://discoversouthwestsardinia.com/wp-content/uploads/2021/12/Schermata-2021-12-11-alle-21.38.22.png
Programma dell'evento "Natale Arresino 2021"
https://discoversouthwestsardinia.com/eventi/natale-arresino-2021/
https://discoversouthwestsardinia.com/eventi/natale-arresino-2021/
https://discoversouthwestsardinia.com/lbg-category/natale-arresino-2021-7/
0
Luci a Natale - Iglesias
12/27/2021-17:0
1/28/2022-23:59
Iglesias
https://discoversouthwestsardinia.com/wp-content/uploads/2021/12/Luci-a-Natale-Iglesias-2021.jpeg
Programma dell'evento "Luci a Natale"
https://discoversouthwestsardinia.com/eventi/luci-a-natale-iglesias/
https://discoversouthwestsardinia.com/eventi/luci-a-natale-iglesias/
https://discoversouthwestsardinia.com/lbg-category/luci-a-natale-iglesias-3/
0
Luci a Natale - Iglesias
12/30/2021-17:0
1/30/2022-23:59
Iglesias
https://discoversouthwestsardinia.com/wp-content/uploads/2021/12/Luci-a-Natale-Iglesias-2021.jpeg
Programma dell'evento "Luci a Natale"
https://discoversouthwestsardinia.com/eventi/luci-a-natale-iglesias/
https://discoversouthwestsardinia.com/eventi/luci-a-natale-iglesias/
https://discoversouthwestsardinia.com/lbg-category/luci-a-natale-iglesias-4/
0
Il Villaggio di Natale a Sant'Antioco
1/2/2022-17:0
1/2/2022-23:59
Sant'Antioco
https://discoversouthwestsardinia.com/wp-content/uploads/2021/12/Schermata-2021-12-12-alle-00.07.40.png
Programma dell'evento "Il Villaggio di Natale a Sant'Antioco"
https://discoversouthwestsardinia.com/eventi/il-villaggio-di-natale-sant-antioco/
https://discoversouthwestsardinia.com/eventi/il-villaggio-di-natale-sant-antioco/
https://discoversouthwestsardinia.com/lbg-category/il-villaggio-di-natale-a-santantioco-4/
0
Natale Arresino 2021
1/5/2022-10:0
1/5/2022-23:59
Sant'Anna Arresi
https://discoversouthwestsardinia.com/wp-content/uploads/2021/12/Schermata-2021-12-11-alle-21.38.22.png
Programma dell'evento "Natale Arresino 2021"
https://discoversouthwestsardinia.com/eventi/natale-arresino-2021/
https://discoversouthwestsardinia.com/eventi/natale-arresino-2021/
https://discoversouthwestsardinia.com/lbg-category/natale-masainas-2021-4/
0
Natale Masainas 2021
1/6/2022-16:0
1/6/2022-23:59
Masainas
https://discoversouthwestsardinia.com/wp-content/uploads/2021/12/Schermata-2021-12-11-alle-22.06.24.png
Programma dell'evento "Natale Masainas 2021"
https://discoversouthwestsardinia.com/eventi/natale-masainas-2021/
https://discoversouthwestsardinia.com/eventi/natale-masainas-2021/
https://discoversouthwestsardinia.com/lbg-category/natale-masainas-2021-6/
0
Natale Perdaxino
1/6/2022-16:0
1/6/2022-23:59
Perdaxius
https://discoversouthwestsardinia.com/wp-content/uploads/2021/12/Schermata-2021-12-11-alle-23.13.01.png
Programma dell'evento "Natale Perdaxino"
https://discoversouthwestsardinia.com/eventi/natale-perdaxino-2021/
https://discoversouthwestsardinia.com/eventi/natale-perdaxino-2021/
https://discoversouthwestsardinia.com/lbg-category/natale-perdaxino-5/
0
Sagra della Vitella
7/30/2022-20:0
7/30/2022-23:0
Piazza Belvedere
https://discoversouthwestsardinia.com/wp-content/uploads/2022/07/sagra-della-vitella.jpg
https://discoversouthwestsardinia.com/eventi/sagra-della-vitella/
https://discoversouthwestsardinia.com/lbg-category/sagra-della-vitella-2/
0
Tre radiogrammi di Agatha Christie
7/31/2022-21:30
7/31/2022-23:0
Piazza del Nuraghe Sant'Anna Arresi
https://discoversouthwestsardinia.com/wp-content/uploads/2022/07/Tre-radiodrammi-di-Agatha-Christie.jpg
https://discoversouthwestsardinia.com/eventi/tre-radiogrammi-di-agatha-christie/
https://discoversouthwestsardinia.com/lbg-category/tre-radiogrammi-di-agatha-christie-2/
0
Concerto di Marta e il suo gruppo
8/1/2022-22:0
8/1/2022-23:30
Piazza del Nuraghe Sant'Anna Arresi
https://discoversouthwestsardinia.com/wp-content/uploads/2022/07/Marta-e-il-suo-gruppo.jpg
https://discoversouthwestsardinia.com/eventi/concerto-di-marta-e-il-suo-gruppo/
https://discoversouthwestsardinia.com/lbg-category/concerto-di-marta-e-il-suo-gruppo-2/
0
Giochiamo insieme!
8/3/2022-22:0
8/3/2022-23:30
Piazza Chiesa Masainas
https://discoversouthwestsardinia.com/wp-content/uploads/2022/07/Giochiamo-insieme.png
https://discoversouthwestsardinia.com/eventi/giochiamo-insieme/
https://discoversouthwestsardinia.com/lbg-category/giochiamo-insieme-2/
0
Sagra del cinghiale
8/6/2022-20:0
8/6/2022-23:0
Piazza Belvedere
https://discoversouthwestsardinia.com/wp-content/uploads/2022/07/sagra-del-cinghiale.png
https://discoversouthwestsardinia.com/eventi/sagra-del-cinghiale/
https://discoversouthwestsardinia.com/lbg-category/sagra-del-cinghiale-2/
0
Manuela Mameli in concerto
8/6/2022-21:30
8/6/2022-23:30
Piazzale Porto Pino
https://discoversouthwestsardinia.com/wp-content/uploads/2022/08/Manuela.png
https://discoversouthwestsardinia.com/eventi/manuela-mameli-in-concerto/
https://discoversouthwestsardinia.com/lbg-category/manuela-mameli-in-concerto-2/
0
Sagra fritto misto e rassegna folk internazionale
8/7/2022-20:0
8/7/2022-23:0
Piazza Belvedere
https://discoversouthwestsardinia.com/wp-content/uploads/2022/07/sagra-fritto-misto.png
https://discoversouthwestsardinia.com/eventi/sagra-fritto-misto-e-rassegna-folk-internazionale/
https://discoversouthwestsardinia.com/lbg-category/sagra-fritto-misto-e-rassegna-folk-internazionale-2/
0
Gonfiabili in piazza!
8/10/2022-22:0
8/10/2022-23:30
Piazza Chiesa Masainas
https://discoversouthwestsardinia.com/wp-content/uploads/2022/08/gonfiabili-in-piazza.png
https://discoversouthwestsardinia.com/eventi/gonfiabili-in-piazza/
https://discoversouthwestsardinia.com/lbg-category/gonfiabili-in-piazza-2/
0
Sagra de "sa pasta fata in domu"
8/12/2022-20:0
8/12/2022-23:0
Piazza Belvedere
https://discoversouthwestsardinia.com/wp-content/uploads/2022/08/sagra-de-sa-pasta-fata-in-domu.png
https://discoversouthwestsardinia.com/eventi/sagra-de-sa-pasta-fata-in-domu/
https://discoversouthwestsardinia.com/lbg-category/sagra-de-sa-pasta-fata-in-domu-2/
0
Liberevento: Lino Cianciotto, Una guida in gamba
8/13/2022-21:30
8/13/2022-23:0
Piazza Belvedere
https://discoversouthwestsardinia.com/wp-content/uploads/2022/08/Lino-Cianciotto.png
https://discoversouthwestsardinia.com/eventi/liberevento-lino-cianciotto-una-guida-in-gamba/
https://discoversouthwestsardinia.com/lbg-category/liberevento-lino-cianciotto-una-guida-in-gamba-2/
0
Sagra de "su curruxoni"
8/16/2022-20:0
8/16/2022-23:0
Piazza Belvedere
https://discoversouthwestsardinia.com/wp-content/uploads/2022/08/sagra-de-su-curruxoni-1.png
https://discoversouthwestsardinia.com/eventi/sagra-de-su-curruxoni/
https://discoversouthwestsardinia.com/lbg-category/sagra-de-su-curruxoni-2/
0
Bolle di sapone!
8/17/2022-21:30
8/17/2022-23:30
Piazza Chiesa Masainas
https://discoversouthwestsardinia.com/wp-content/uploads/2022/08/bolle-di-sapone.png
https://discoversouthwestsardinia.com/eventi/bolle-di-sapone/
https://discoversouthwestsardinia.com/lbg-category/bolle-di-sapone-2/
0
Rassegna gastronomica
8/19/2022-20:0
8/19/2022-23:0
Piazza Belvedere
https://discoversouthwestsardinia.com/wp-content/uploads/2022/08/rassegna-gastronomica-1.png
https://discoversouthwestsardinia.com/eventi/rassegna-gastronomica/
https://discoversouthwestsardinia.com/lbg-category/sagra-de-sa-pasta-fata-in-domu-2/
0
Concerto "come nelle favole"
8/19/2022-22:0
8/19/2022-23:30
piazza del nuraghe
https://discoversouthwestsardinia.com/wp-content/uploads/2022/08/concerto-musicale-come-nelle-favole.png
https://discoversouthwestsardinia.com/eventi/concertocome-nelle-favole/
https://discoversouthwestsardinia.com/lbg-category/concerto-come-nelle-favole/
0
Liberevento: Roberta Bruzzone, Versace. Autopsia di un delitto impossibile
8/20/2022-21:30
8/20/2022-23:0
Piazza Belvedere
https://discoversouthwestsardinia.com/wp-content/uploads/2022/08/roberta-bruzzone.png
https://discoversouthwestsardinia.com/eventi/liberevento-roberta-bruzzone/
https://discoversouthwestsardinia.com/lbg-category/natale-perdaxino-4/
0
Calici di vini, degustazione vini del sulcis
8/20/2022-21:0
8/20/2022-23:30
piazza municipio
https://discoversouthwestsardinia.com/wp-content/uploads/2022/08/calici-di-vini.png
https://discoversouthwestsardinia.com/eventi/calici-di-vini-degustazione-vini-del-sulcis/
https://discoversouthwestsardinia.com/lbg-category/concerto-di-marta-e-il-suo-gruppo-2/
0
Burattini sotto le stelle!
8/24/2022-21:30
8/24/2022-23:30
Piazza Chiesa Masainas
https://discoversouthwestsardinia.com/wp-content/uploads/2022/08/burattini-sotto-le-stelle.png
https://discoversouthwestsardinia.com/eventi/butattini-sotto-le-stelle/
https://discoversouthwestsardinia.com/lbg-category/burattini-sotto-le-stelle/
0
Rassegna folk!
8/28/2022-20:30
8/28/2022-23:30
Piazza Belvedere Masainas
https://discoversouthwestsardinia.com/wp-content/uploads/2022/08/rassegna-folk.png
https://discoversouthwestsardinia.com/eventi/rassegna-folk-2/
https://discoversouthwestsardinia.com/lbg-category/rassegna-folk/
0
Concerto Traces, Star Splitter e Lumastè
8/29/2022-21:0
8/29/2022-23:30
Piazza del nuraghe sant'anna arresi
https://discoversouthwestsardinia.com/wp-content/uploads/2022/08/jazz.jpg
https://discoversouthwestsardinia.com/eventi/ai-confini-tra-sardegna-e-jazz-2022-2/
https://discoversouthwestsardinia.com/lbg-category/concerto-traces-star-splitter-e-lumaste/
0
Jazz e note di vino!
8/30/2022-20:0
8/30/2022-23:30
Piazza Belvedere Masainas
https://discoversouthwestsardinia.com/wp-content/uploads/2022/08/jazz-e-note-di-vino.png
https://discoversouthwestsardinia.com/eventi/jazz-e-note-di-vino-a-masainas/
https://discoversouthwestsardinia.com/lbg-category/jazz-e-note-di-vino/
0
Concerto Gavino Murgia
8/30/2022-21:0
8/30/2022-23:30
anfiteatro belvedere a Masainas
https://discoversouthwestsardinia.com/wp-content/uploads/2022/08/jazz.jpg
https://discoversouthwestsardinia.com/eventi/ai-confini-tra-sardegna-e-jazz-2022-2/
https://discoversouthwestsardinia.com/lbg-category/concerto-gavino-murgia/
0
Una vita, più vite, in tre atti ed un epilogo + Mercoledì dei bambini!
8/31/2022-21:30
8/31/2022-23:30
Piazza Belvedere Masainas
https://discoversouthwestsardinia.com/wp-content/uploads/2022/08/Una-vita-piu-vite-in-tre-atti-ed-un-epilogo-Mercoledi-dei-bambini.jpg
https://discoversouthwestsardinia.com/eventi/una-vita-piu-vite-in-tre-atti-ed-un-epilogo-mercoledi-dei-bambini/
https://discoversouthwestsardinia.com/lbg-category/una-vita-piu-vite-in-tre-atti-ed-un-epilogo-mercoledi-dei-bambini-2/
0
Concerto Zoe Pia Solo
8/31/2022-21:0
8/31/2022-23:30
Piazza del nuraghe sant'anna arresi
https://discoversouthwestsardinia.com/wp-content/uploads/2022/08/jazz.jpg
https://discoversouthwestsardinia.com/eventi/ai-confini-tra-sardegna-e-jazz-2022-2/
https://discoversouthwestsardinia.com/lbg-category/concerto-zoe-pia-solo/
0
Rassegna cinematografica "Angolazioni"
9/9/2022-21:15
9/9/2022-23:30
Piazza del Nuraghe
https://discoversouthwestsardinia.com/wp-content/uploads/2022/09/304903705_190612543329994_2804430647136313178_n.jpg
https://discoversouthwestsardinia.com/eventi/rassegna-cinematografica-angolazioni/
https://discoversouthwestsardinia.com/lbg-category/rassegna-cinematografica-angolazioni-2/
0
Rassegna cinematografica "Angolazioni"
9/10/2022-21:15
9/10/2022-23:30
Piazza del Nuraghe
https://discoversouthwestsardinia.com/wp-content/uploads/2022/09/304903705_190612543329994_2804430647136313178_n.jpg
https://discoversouthwestsardinia.com/eventi/rassegna-cinematografica-angolazioni/
https://discoversouthwestsardinia.com/lbg-category/rassegna-cinematografica-angolazioni-3/
0
Rassegna cinematografica "Angolazioni"
9/11/2022-21:15
9/11/2022-23:30
Piazza del Nuraghe
https://discoversouthwestsardinia.com/wp-content/uploads/2022/09/304903705_190612543329994_2804430647136313178_n.jpg
https://discoversouthwestsardinia.com/eventi/rassegna-cinematografica-angolazioni/
https://discoversouthwestsardinia.com/lbg-category/tre-radiogrammi-di-agatha-christie-2/
0
Concerto Overture III e Paolo Angeli
9/16/2022-21:0
9/16/2022-23:30
chiostro san Francesco a Iglesias
https://discoversouthwestsardinia.com/wp-content/uploads/2022/08/jazz.jpg
https://discoversouthwestsardinia.com/eventi/ai-confini-tra-sardegna-e-jazz-2022-2/
https://discoversouthwestsardinia.com/lbg-category/concerto-overture-iii-e-paolo-angeli/
0
Sagra delle olive di Villamassargia 2022
10/21/2022-9:0
10/21/2022-12:30
S'ortu mannu Villamassargia
https://discoversouthwestsardinia.com/wp-content/uploads/2022/10/IMG-20221017-WA0010-1.jpg
https://discoversouthwestsardinia.com/eventi/sagra-delle-olive-villamassargia/
https://discoversouthwestsardinia.com/lbg-category/sagra-delle-olive-di-villamassargia-2022/
0
Sagra delle olive di Villamassargia 2022
10/22/2022-9:0
10/22/2022-17:30
S'ortu mannu Villamassargia
https://discoversouthwestsardinia.com/wp-content/uploads/2022/10/IMG-20221017-WA0010-1.jpg
https://discoversouthwestsardinia.com/eventi/sagra-delle-olive-villamassargia/
https://discoversouthwestsardinia.com/lbg-category/sagra-delle-olive-di-villamassargia-2022-2/
0
Sagra delle olive di Villamassargia 2022
10/23/2022-9:0
10/23/2022-17:30
S'ortu mannu Villamassargia
https://discoversouthwestsardinia.com/wp-content/uploads/2022/10/IMG-20221017-WA0010-1.jpg
https://discoversouthwestsardinia.com/eventi/sagra-delle-olive-villamassargia/
https://discoversouthwestsardinia.com/lbg-category/sagra-delle-olive-di-villamassargia-2022/
0
Gospel Explosion- XX edizione
12/21/2022-20:30
12/28/2022-20:30
Gospel Explosion- XX edizione
https://discoversouthwestsardinia.com/wp-content/uploads/2022/12/GOSPEL-2022-slide-sito-web1.jpg
https://discoversouthwestsardinia.com/eventi/gospel-explosion-xx-edizione/
https://discoversouthwestsardinia.com/lbg-category/concerto-overture-iii-e-paolo-angeli/
0
Natalinsieme a Villaperuccio
12/23/2022-15:0
1/6/2023-20:0
https://discoversouthwestsardinia.com/wp-content/uploads/2022/12/b941e15f-82f1-469d-b418-d3d22b64e952.jpg
https://discoversouthwestsardinia.com/eventi/natalinsieme-a-villaperuccio/
https://discoversouthwestsardinia.com/lbg-category/natalinsieme-a-villaperuccio-2/
0
Il Sulcis Iglesiente Espone a Carbonia
10/06/2023-18:0
11/06/2023-20:0
Piazza Roma e tutto il centro di Carbonia
https://discoversouthwestsardinia.com/wp-content/uploads/2023/01/Sulcis-Iglesiente-Espone-10-11-Giugno-a-Carbonia.png
L'evento "IL SULCIS IGLESIENTE ESPONE" è creato e realizzato dal "Consorzio Fieristico Sulcitano". La fiera, tra le più importanti in Sardegna, ospita ogni anno oltre 200 espositori che raccontano e promuovono le eccellenza artigianali, artistiche ed eno-gastronomiche della Sardegna.
https://discoversouthwestsardinia.com/eventi/il-sulcis-iglesiente-espone-carbonia/
Il Consorzio Fieristico Sulcitano
https://discoversouthwestsardinia.com/lbg-category/gospel-explosion-xx-edizione-2/
0